My book Attack of the 50 Foot Blockchain is up for pre-order (available worldwide, that's just the UK link) and will be released Monday 24 July 2017!
(so I'd better finish it by then, hey)
Here's the art, by the wondrous Alli Kirkham: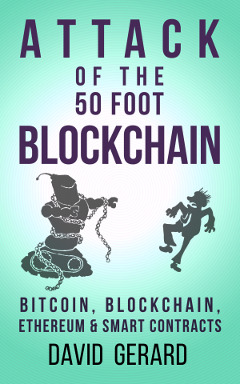 (click for large version)
Back cover to follow, when I work out the paperback dimensions and aspect ratio ...
I've just posted a new excerpt, ICOs: Magic Beans and Bubble Machines, in case you ever wanted to know what on earth ICOs were and how they worked.
TELL EVERYONE YOU KNOW!